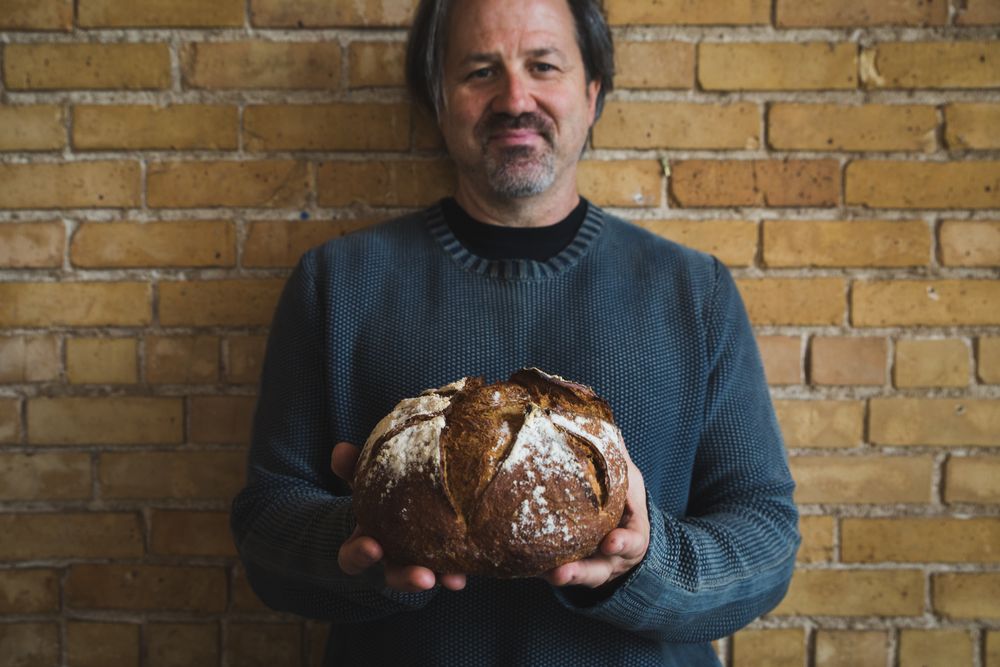 The History of Texas French Bread
By Murph Willcott, owner
THE BEGINNING
Texas French Bread was founded by my parents in 1981 in their kitchen – literally. As in – when the health inspector got wind of this situation and paid an unexpected visit to 503 west 33rd Street, the family basset hound eased out of her bed under the kitchen table with teeth bared and in a full throated growl. Ah the hilarity that ensued. From there we rented a commercial space at the corner of 34th and Guadalupe and somehow talked the city out of shutting us down.
I think it all worked out because Mom's honest, sturdy, peasant style French bread had such indomitable spirit. It was backed by a ton of love, there was nothing else like it in town, and it had become a sensation almost overnight. Within months, we went from a tiny boutique wholesale operation, baking French bread for a few restaurants and stores like Jeffrey's, the Common Market, and Basil's, to producing baguettes in large quantities for resale at the fledgling Whole Foods Market (back then the sole store at 10th and Lamar).
And folks began to queue up at the door of the bakery asking if they might buy our baked goods. This was not part of the plan, but the little bakery that could sprouted a front counter with a blue gingham cotton tablecloth in front of its large casement windows facing the street and began offering fresh croissants, brioche and coffee cake. In no time, our block became a favorite weekend hangout and meet up place for people who would line the block in front of our neighbors (Ropa Usada – a used clothing store and Recycled Records – a used record store) and wait for fresh brewed coffee, and warm bread straight out of the oven.
Throughout the 1980s and early 1990s, Texas French Bread grew rapidly, opening a number of satellite locations. In 1986, my mother acquired what was to become our flagship (and now sole) location at 2900 Rio Grande, the former home to one of Austin's historic music venues, the Rome Inn. During these years, our product line increased and shifted from a primary focus on bread and pastries to include a substantial lunch menu. Our peak year came in 1995 when we operated 11 shops and turned a handsome profit.
However, by the late 1990s, TFB found itself face to face with some classic, predictable and very challenging business issues. What does the red hot startup do when it's no longer the youngest, coolest kid on the block? How could we develop into a mature small business? What happens when the market changes, and the exponential growth that so easily seemed to happen in the early years finally begins to slow?
Well – we had some rough years, but we're still here. Fast forward to 2006: Having reorganized the company and shed much of our expensive and unproductive real estate, we began to focus on the idea of rebuilding our company's core mission at a single location – our flagship shop on 29th Street – where we would focus on producing exceptional products, rather than operating a bunch of shops producing an exceptional number of products.
THE RESTAURANT
The biggest change in the history of the company has been the opening of our restaurant. In 2007, we refinanced the company in a deal that allowed my mother to retire, and left me and my younger brother Ben in control of the business. Ben and I were fired up for the opportunity, but we faced a hard question – what the heck were we thinking? And what exactly did we plan to do next? OK, you're right – that's 2 questions. But being as the first was not, strictly speaking, relevant, we decide to focus on the latter.
We wanted to fundamentally reinvent the company from the ground up around the values that had made it such a hit in the first place. Our dream was to have the kind of impact on our community that our mom had on our town back in 1981. We wanted to continue to help change peoples' conceptions about food and "the good life" the way she and her magical little bakery business had done back in the early days.
It's also worth pointing out that while both my brother and I inherited our mom's passion for bread baking, bakers' early morning hours really suck. They tended to run afoul of some other things we really liked doing – like staying up late, cooking, hanging our with our friends, and drinking wine.
So we did what untold numbers of other naïve knuckleheads before us had done. We decided to open a restaurant. It seemed like a "can't lose" idea – to open a farm to table restaurant in conjunction with Texas French Bread, where the history of fresh baked artisan breads could provide the business with the honesty, soul, and backbone needed to keep us grounded.
We had the space, and opportunity - she was knocking. We also had fairly clear idea of the approach we wanted to take (we'd been running a semi-monthly underground supper club for a year or so), and some lofty goals.
All we needed was some funding to get our old building on 29th St. to meet current city code. Then we could get a license to sell adult beverages and we would get this party started. But things have a way of turning out to be a bit more complicated than at first they may appear. As we waited for the perfect window, words like "sub-prime mortgage" began to appearing in the newspaper. Increasingly the media began to locate the country's economic situation somewhere on a scale between the fall of the Roman Empire and the bubonic plague of the middle-ages. So – there was no money for a remodel – bummer. Ultimately, we just figured, what the hell. No opportunity is perfect and it may not get better than this – no time like the present to jump in with both feet.
In August of 2008, we began serving dinner several nights a week at our 29th St. Cafe. We had no budget to speak of, and not even a beer and wine license to hang our hats on. What we did have was a fairly rudimentary and challenging kitchen space consisting of an old stove parked in the middle of our bakery oven room, and an existing clientele who were somewhat confused by the idea of "dinner at Texas French Bread". Undaunted, we emailed everyone we knew – probably about 50 people that first weekend – and begged them to come – we were open for dinner.
We began with the building blocks of what has developed over time into a casual bistro menu that combines many of our culinary interests—in particular, our interest in the techniques of traditional French country and Mediterranean cooking. There are several basic criteria for the foods we serve, and they're based off of Alice Waters' dictate to go forth and find fresh, simple, nutritious foods that that are produced locally using responsible, sustainable methods and cook them in the appropriate season. Local foods tend to be fresher and healthier than food that has traveled a great distance, with more opportunity to ripen naturally on the plant. In general, this resulted in a lower carbon footprint. Likewise, we want to use foods that are cultivated in accordance with sustainable, responsible methodologies using a minimum of industrial fertilizers, chemical pesticides, etc.
Today at the restaurant and in the bakery, we continue to seek out the best and most beautiful ingredients we can find. We have many wonderful relationships with local farmers and artisans, often through the farmers markets at which we sell our artisan breads (we'd like to especially thank Boggy Creek, who we've been sourcing from since the very beginning). We finally got our beer and wine license and have begun curating a truly unique wine list to complement our menu and we even added an outdoor patio. And most importantly, both our clientele and our team have expanded to include thoughtful, curious and inspirational people, without which Texas French Bread would not be possible.
bon appétit,
murph